"Burn the way!"
Edit
Fire, Sheep, Skylanders Falling Flocked, Male Characters
Biography
Edit
Ashbleat was born in an ash cloud that Eruptor, Hot Head, and Blast Zone were sent to investigate. Ashbleat's arms caught on fire when he went flying out of the cloud. The ash started to fall from the clouds and Ashbleat, thinking quickly, saved his friends. Now Ashbleat is a flaming member of the Skylanders Falling Flocked team.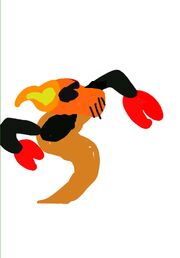 1-Smoke punch
2-Flame throw
Soul Gem: Flaming Enemies
Additional Attacks
Edit
Smoke mines
Fiery punch
Far throw
Path 1-Smoke Attacks
Edit
Extra smoke mines
Explosive punch
Mega smoke mine
Path 2-Flame Throw Attacks
Edit
Fire fountain
Erupt
Farther flames
Ad blocker interference detected!
Wikia is a free-to-use site that makes money from advertising. We have a modified experience for viewers using ad blockers

Wikia is not accessible if you've made further modifications. Remove the custom ad blocker rule(s) and the page will load as expected.