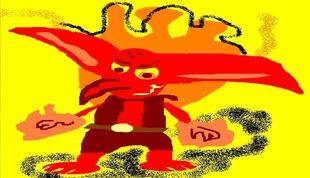 "Singe Singe Singe!"
Goblin
Biography
Edit
Asherr was an ordinary Goblin pulling pranks, and being mischievious, till his house was burnt to the ground by a group of Imps. Asherr got so angry that he took a Potion Brew, and jumped into the flames. This combination of Magic and Fire caused him to morph into a flaming fighter! he was able to kick out those Imps, and rebuild his house. With his new powers he thought that he could defend not only his livelyhood, but all of Skylands. He was then recruited as a Skylander, but still enjoys pulling pranks on other Skylanders.
1: Flame Throw
2: Ash Dash
SOUL GEM: Dash on Walls
Additional Attacks
Edit
Rocket Launchin' Flight
Trail 'o Flames
Eye of the Fire
Leave a Mark
Double Throw
Flame Thrower
Ring of Fire
Mushroom Cloud
Extended Dash
Ad blocker interference detected!
Wikia is a free-to-use site that makes money from advertising. We have a modified experience for viewers using ad blockers

Wikia is not accessible if you've made further modifications. Remove the custom ad blocker rule(s) and the page will load as expected.