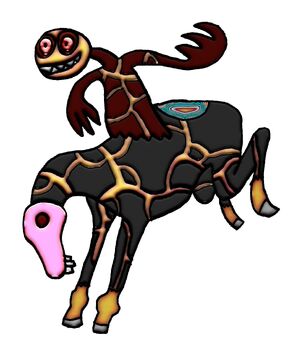 Brass Nuckel the Nuckelavee is the Undead Element Beast.
Biography
Edit
In the time the great battle between the two beings who later would become Eye-Brawl, a strange animal followed them through the Valley of the Undead until they declared a truce. As Eye-Brawl set out to be a hero he soon noticed the Nuckelavee, with his horse body and brass veins, and took him along for the battle of the Arkeyans.
Abilities
Edit
Attack 1: Horse Head Chain
Attack 2: Laser Scream
Banshee Banter: Laser Scream does more damage.
Metal Horse Teeth: Chain Head does more damage and has longer range.
Kick Out of It: Press Attack 3 to unleash some nasty kicks. Press it while moving to charge.
Horse Throated: Scream long enough and your laser gets a longer range
Here Comes the Chain (Chain and Kick)
Edit
Gold Horse Teeth: Chain Head does even more damage.
Stones in the Hooves: Kick Attack does more damage to strikes quicker.
Brass Nuckel Combos: A1, A1, A2 for Fourth Wall Fangs. A1, A1, A3 for Crazy Chain Smash.
Nuckel Nightmare (Scream)
Edit
Reel and Squeal: While the Horse Chain is retracting, press Attack 2 to make the horse scream.
Sweet Screams: While Screaming, press Attack 3 to throw your actual head, making a sound bomb.
Frighty Night: Scream at enemies and they'll scream too.
Nuckel Dusters: While your Laser Scream is at its maximum range, press Attack 1 for a Spooky Punch Attack.
Elemental Riders
Edit
Air: Scream is now a Vaccuum to eat enemies and regain health.
Earth: Horse Head is now a diamond that does more damage.
Fire: Charge to turn into a burning rider, leaving a trail that burns enemies.
Life: Head Bomb leaves behind seeds the latch onto enemies.
Magic: Get your scream to maximum range and let go to release a devastating blast.
Tech: Chain is longer and electrocutes enemies while retracting.
Undead: Increased Stats
Water: Hold Attack 2 to spit scalding water.
Ad blocker interference detected!
Wikia is a free-to-use site that makes money from advertising. We have a modified experience for viewers using ad blockers

Wikia is not accessible if you've made further modifications. Remove the custom ad blocker rule(s) and the page will load as expected.