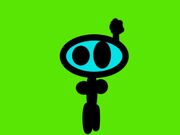 BIO: Bubble Boy is extremely powerful he creates bubble that will attack you viciously but if surrounded he will submit right away he will follow you anywhere his main ability is when he spawns minion bubble to help him he can do up to 150 damage per second this Skylander is a great ally in a battle.
Species: water
Ad blocker interference detected!
Wikia is a free-to-use site that makes money from advertising. We have a modified experience for viewers using ad blockers

Wikia is not accessible if you've made further modifications. Remove the custom ad blocker rule(s) and the page will load as expected.