Devil Bite Offical Catchphrase is One For Meh!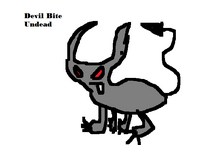 Biography is Simple a Demon's Cat Who Became A skylander.
Attacks
Devil Fang
Shadow Of Fire Molten
King of the Bite
Sting Thorn
Team Up with Nova
Power of 6
Wow Pow: Devil Walk
Bye! Check My Post On The Skylander Wrecking4ever Collection So Far No copies it is called My Skylanders So Far Please Dont Copy if you do i am reporting
Ad blocker interference detected!
Wikia is a free-to-use site that makes money from advertising. We have a modified experience for viewers using ad blockers

Wikia is not accessible if you've made further modifications. Remove the custom ad blocker rule(s) and the page will load as expected.