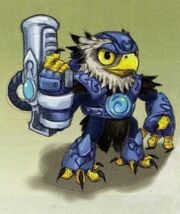 Falcannon catchphrase: "Again, I Wind!"
Story: When Falcannon was 3, he fell in a Giant's lair. His brother was the ancient Vac-Eagle. So he dressed up as him and cloned his blaster. Now he is 10, and one of the youngest Skylanders.
Upgrades:
Edit
| Attack 1: Fire your blaster | Attack 2: Spawn mini-Falcons on enemies. | Soul gem: Shoot farther |
| --- | --- | --- |
| Attack 3: Fly | Spawn 4 mini-Falcons | Walk faster/other upgrade: Blaster shoots faster |
| Path 1: Blaster is explosive | Spawn 10 mini-Falcons | Blaster shoots bombs |
| Path 2: Fly faster | You cannot get damaged while flying | Fire the blaster while flying |
Sky Baron
Ad blocker interference detected!
Wikia is a free-to-use site that makes money from advertising. We have a modified experience for viewers using ad blockers

Wikia is not accessible if you've made further modifications. Remove the custom ad blocker rule(s) and the page will load as expected.