Before I start i have put the diffrences off the old and new one of Jeweled Sky!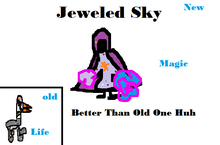 New Jeweled Sky: Imaginations is the Key!
Old Jeweled sky:Finding My way Trough
Biography (New Jeweled Sky)
In The Unkown Magic Dimension Star Strike and Jeweled Sky Were Friends then when kaos did the spell on the first game star strike was blown away One day kaos said star strike is a handfull so he took Jeweled sky out. She Knew Kaos Wanted her but then she though of something and her imaginaton blew and she used the powers of imagination to defeat kaos and Eon took her to be a skylander
Old Jeweled sky Bio
In The Lake of Skylands it was peaceful then suddenly kaos striked again and when kaos blew up the portal of power it hit Jeweled sky so hard she became magic and eon saw after when the soul was found and he made jeweled sky a skylander
By The Way Which One Is better?
New Jeweled Sky Attacks
Shoot For it
Imagination
Slash Of The Butterflys
Wilkin Magic
Wow Pow Star Fly
Self Form Magic Dust
Neon Blast
Old Jeweled Sky Attacks
Life Beak
Lip Of Gold
Talk to the Flipper
Fuzzer skin
Hipno Eyes
Ad blocker interference detected!
Wikia is a free-to-use site that makes money from advertising. We have a modified experience for viewers using ad blockers

Wikia is not accessible if you've made further modifications. Remove the custom ad blocker rule(s) and the page will load as expected.