"Want to puppet?"
Knife Jack

Species:
Puppet
Gender:
Male
Element:
Undead
Role:
Skylander
World:
Deadmen's Cove
Appears in:
Skylanders: Fused Elements
-Knifejack's official catchphrase
Knifejack is a master puppet and is seem to be a creepy character. He appears in Skylanders: Fused Elements
Biography

Edit
Knifejack was created in the same workshop as Puppet , by the same creature. One day while their creature was creating another puppet, Knifejack and Puppet escaped. They left to a town nearby and return moments later. Upon Knifejack's return the house was set on fire by Kaos and they became a Skylander were they would fight Kaos, even though Eon finds his appearance might kill his enemies for sure.
Primary Attack: Knife cut- Swing your knife hands at enemies
Secondary attack: Jack-in-the-box: Leave a Jack-in-the-box which damages nearby enemies after touched
Basic Upgrades
Edit
Puppet Mayhem: Drop a puppet which attacks enemies
Better Blades? Thanks!!!- Blades become sharper causing more damage
Pop Goes the Weasel- The Jack-in-the-box now sings causing more damage
Blood Stain (Knives and Jack-in-the-box)
Edit
Blood, yes!!!- Everytime Knifejack uses his primary attack blood will cover his blades
Child-proof? I Don't Believe in It- Blood comes alive and attacks enemies once the Jack-in-the-box is set
Lord of Blood- All attacks cause more damage
Puppet Master (Puppets)
Edit
Puppet Sing Along- Puppets now sing causing more damage
Puppet Trio- Three puppets attack at once
Puppet Power- Slicing the puppets will wipe out all enemies (except trappable and bosses) to disappear
(Octavius Lair  ) Puppet Creator- Knifejack now unleashes all of his attacks at once causing a huge puppet time bomb to go off
He is the creepiest of all the Skylanders from Fused Elements
He is similar to the Puppet from Five Nights at Freedy's 2
His Soulgem rarely leads to a crash game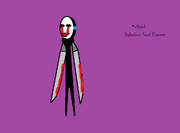 Ad blocker interference detected!
Wikia is a free-to-use site that makes money from advertising. We have a modified experience for viewers using ad blockers

Wikia is not accessible if you've made further modifications. Remove the custom ad blocker rule(s) and the page will load as expected.