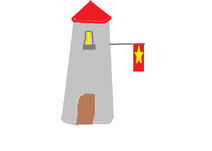 This page is about the Mage Tower level,for the Adventure Pack click here.
Chompies
Life Spellpunk
Water Spellpunk
Electric Imp
Drow Lance Master
Greeble
Crystal Golem
Chompy Pods
Drow Archers
Armored Drow Lance Master
Objective
Edit
Blow up the security pannels
Enter the castle
Defeat the Angry Nimbus Mini-Boss
Find the top chamber
Defeat the Weather Wizard
Ad blocker interference detected!
Wikia is a free-to-use site that makes money from advertising. We have a modified experience for viewers using ad blockers

Wikia is not accessible if you've made further modifications. Remove the custom ad blocker rule(s) and the page will load as expected.