"Hoist the main-WAIL!"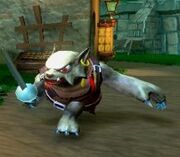 Seadog
Biography
Edit
On a ship called the S.S.CrossBone, Scurvy was the navigater. When a Kracken attacked the ship, he was able to save the crew by planting the ship on an abandoned island, but he could not escape the Kracken. He sliced off a tentacle, and swam to the shore of Eon's Palace. Explaining antics, Scurvy gained Eon's trust and he made him a Skylander.
1: Sword Slices
2: Soaking Claws
SOUL GEM: Swiming Heals You
Additional Attacks
Edit
Sword Combo
Wolf's Paw
Howl
Sheild of the Seas
Captain's Cutless
Sword carries items
Claws of Iron
Artic Splash
Splash ranges farther.