HEY YOU!!!
Get out of my cave!

No, seriously. You can't edit this article without my permission. ...Well, unless it's a colab and you're part of it. Capish? Good.

Or prepare to get smashed!
This Skylanders Game brings a lot of new characters and Skylanders.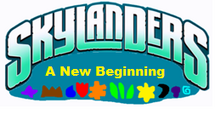 Storyline
Edit
It all started on amorning when Captain Flynn was working on his ship,when he found somekind of doorway somewhere in the junkyard,he saw a hole in the door and a gem on the floor.He picked up the stone and put it in the little hole,immediatly the door opens when some Greebles start to attack him ofcourse he gets saved by Cali and a Skylander(You).The three of them enter the chamber and Find some kind of Life gem,they pick up the gem and bring it to Master Eon.Eon says there are 8 gems:Earth,Life,Undead,Tech,Water,Magic,Fire and Air.They open a way to a magical sword that is the only way to defeat Kaos.And there starts their journey to find the 7 other gems.
I made a biiiiiiiiiiiiiiiiiiiig ass story but my computer crashed when i was typing it and now it's gone :c.Srry for the short story.
Skylanders
Edit
Undead
Elemantal Masters
New Core
Reused
Lightningbolt Cynder
Kiss the Cook Chop-Chop
Skullface Ghostroaster
Magic
Elemental Masters
New Core
Reused
Power Potion Pop Fizz
Copycat Double Trouble
Air
Elemental Masters
New Core
Reused
Featherflight Jet-Vac
Rainbowshot Whirlwind
Fun Fight Fling-Kong
Tech
Products
Edit
Ad blocker interference detected!
Wikia is a free-to-use site that makes money from advertising. We have a modified experience for viewers using ad blockers

Wikia is not accessible if you've made further modifications. Remove the custom ad blocker rule(s) and the page will load as expected.