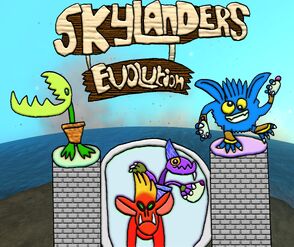 Skylanders Evolution is a game created by The MagicCrafter and The Artisan and officalfuncubed .
Kaos has returned to take over a new region of Skylands , the Moncific Isles , but this time with a full army of evil hybrid creatures, stronger than one Skylander alone. Thankfully,  new technology has been added to the Portal of Power, giving it the ability to mix two Skylanders and their stats and element together to create a Hybrid Skylander . Not only that, but similar technology has brought back fossils of the Giants ' mounts, the Beasts , back from extinction. It is up to the Portal Master to take back Skylands with Flynn , Cali , General Robot , Colonel Clambo and many more in your quest to turn Kaos' plans to Beast Food.
The new Portal of Power is gifted with the ability to mix two different Skylanders together, merging their element, stats, gold and more to the new Skylander. However, Core, Series 2, 3 and 4, and Lightcore are the only Skylanders who can use this feature. By combining different characters, certain types of Skylanders get different results. For example, Mega Ram Spyro and Series 1 Eruptor may differ from Series 1 Spyro and Lava Barf Eruptor. Lightcores still retain their flash bomb effect even while combined.
Also, Beasts are giant monsters that can be ridden on by other Skylanders, such as Regulars, Giants, Hybrids, and Swap Force. A Beast is given a secondary element as well as a special elemental effect, and a new attack depending on the Skylander on its back.
List of Skylanders
Edit
Returning Skylanders
Edit
Big Blaze Spyro(Series 4)
Super Reaver Voodood (Series 2)
Maximum Mix Pop Fizz (Series 3)
Overboard Gill Grunt (Series 4)
Shock Slam Wham Shell (Series 2)
Fish Fight Riptide (Series 2)
Crazy Gold Trigger Happy (Series 4)
Dynamight Boomer (Series 2)
Blast Thoughts Countdown (Series 2)
Bigger Barf Eruptor (Series 4)
Mega Spark Smolderdash (Series 2)
Blazing Force Sunburn (Series 2)
Smash Dash Bash (Series 3)
Saliva Mouth Slobber Tooth (Series 2)
Flinger Dino Rang (Series 2)
Photosynthesis Camo (Series 3)
Father Nature Zoo Lou (Series 2)
Little Legumes Shroomboom (Series 7)
Eggcellent Sonic Boom (Series 3)
Huff Puff Pop Thorn (Series 2)
Windy Whiz Jet Vac (Series 3)
Skull Soul Ghost Roaster (Series 2)
Electro Cynder (Series 2)
LightCore
Edit
New Skylanders
Edit
Crab claws
Ad blocker interference detected!
Wikia is a free-to-use site that makes money from advertising. We have a modified experience for viewers using ad blockers

Wikia is not accessible if you've made further modifications. Remove the custom ad blocker rule(s) and the page will load as expected.