Kaos has escaped again...
Edit
This time Kaos is back, with a new and updated Ultralaser. At least the Falling flock team is more powerful, with S2 characters, a new element, and a new flocked character. Now the Falling Flock team is the Middle Flock team. Fight through the Flock war to make the Middle Flock team rise!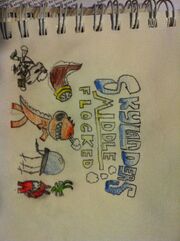 Returning Falling Flocked Characters
Edit
All same flocked characters
New Middle Flocked Characters
Edit
Wooly (Now a mini character!)
​Chapters
Edit
1-Wooly Battlegrounds
2-Grass Passing
3-Prickly Pastures
4-Mystery Explosion
5-Sheep Shock 
6-Island of The Lamb
7-Bleat Invasion
8-The New Threat
Additional Chapters
Edit
Other Flocked Games
Edit
Coming Soon...
Edit
Ad blocker interference detected!
Wikia is a free-to-use site that makes money from advertising. We have a modified experience for viewers using ad blockers

Wikia is not accessible if you've made further modifications. Remove the custom ad blocker rule(s) and the page will load as expected.