"The Weapon of the Show!" --Weapy's Catchphrase
"If you want me friend, I'll kindly be in the Airship, and exploring Woodburrow later." --Weapy when you talk to him for the 3rd time in NPC Form.
Species: Arkeyan
Element: Magic
Weapy is an Arkeyan who is the brother of the Weapon Master, they look exactly alike. He comes in the Frozen Islands Adventure Pack with the Strength Axe, Coin Pile and Food Machine.
Biography
Edit
Being the brother of Weapon Master, Weapy was the commander of all the Arkeyans, except the Arkeyans didn't follow Weapy's Command and went to Kaos Place. Weapy was really sad. So after that, he joined the Skylanders to take revenge.
Sword
Hammer
Axe
Mace
Blade
Knife
Potion Acid
Arkeyan Magic
Chain
Arkeyan Bazooka
Pixie Dust Chain
Pixie Dragon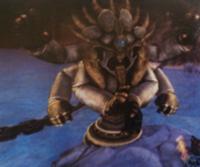 Ad blocker interference detected!
Wikia is a free-to-use site that makes money from advertising. We have a modified experience for viewers using ad blockers

Wikia is not accessible if you've made further modifications. Remove the custom ad blocker rule(s) and the page will load as expected.