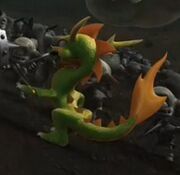 "The Scales will Prevail!"
Species. Voice by Edit
Chinese Dragon. Phil lamarr trevor devall (commercials) dante basco (kim possible ) david kaye (iron man)
Biography
Edit
Zen comes from a province of Chinese Dragons in the Small Skyland Islands. He never left his Province because he, unlike other Dragons, can't fly so he practiced the Martial Art of Wushu with the Dragon Masters. Once he went to the Masters to become a Master himself, his Province was attacked by a group of Drows, and taken to Kaos' Lair. He fought his way out with the "Way of the Dragon Technique." Master Eon found out about his fight with Kaos, and recruited him as a Skylander.
1: Kick-Fist Combo
2: Flame Dash
SOUL GEM: Flames on Scales
Additional Attacks
Edit
Long Combo
Extend Flame Dash
Scale Rotatation
Flames on Scales Sheild +10
Flaming Fists
Round House Kick
Tail Jab
Flame Dash leaves trail
Eat Food while in flames
Explosion after Flame Dash.
Trivia he is voiced by trevor devall dukey from johnny test phil lamarr samurai jack and David kaye optimus prime from transformers animated also dante basco Bruce wayne from naruto
Edit